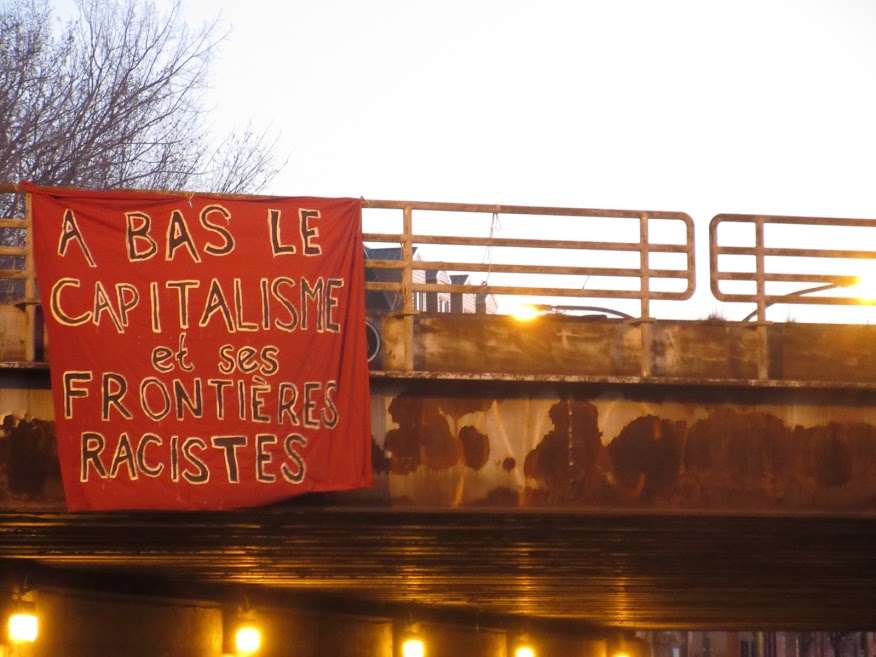 Montréal, le 29 avril 2016- À quelques jours de la manifestation anticapitaliste du 1er Mai, dont le thème est Contre l'impérialisme, le racisme, les frontières et le colonialisme, les Apatrides anonymes et leurs allié-e-s ont déployé plusieurs bannières dans différents quartiers de Montréal : Rosemont, Plateau Mont-Royal, Pointe St-Charles et Petite Patrie.
Par cette action, nous voulons dénoncer les politiques canadiennes en matière d'immigration et afficher notre solidarité avec ceux et celles qui en font les frais. Mis à part le programme spécial des derniers mois pour quelques milliers de réfugié-e-s syriens-ne-s, le Canada continue d'être restrictif, répressif et raciste à l'endroit des personnes migrantes, en particulier envers les demandeurs-euses du statut de réfugié qui sont les immigrant-e-s les plus précaires.
Nous voulons marquer notre opposition au capitalisme mondialisé qui permet de plus en plus aux riches États et aux grandes entreprises, par le biais de guerres, d'appropriation des terres et de saccages environnementaux, d'exploiter les ressources et populations du Sud globalisé, tout en exploitant ici les travailleurs-euses dépossédé-e-s qui cherchent refuge au Nord.
De plus, pour diviser encore plus nos résistances, on agite le spectre du terrorisme, et on ravive la xénophobie d'une partie de la population pour détourner sa colère légitime face à la situation économique et politique vers les immigrant-e-s. Cette dérive doit être stoppée au plus vite!
Partout dans le monde, nous devons plutôt nous unir contre le pouvoir capitaliste et raciste. Contre ses attaques, nous devons répondre par la solidarité!
Un statut pour tous et toutes!
Photos des bannières: https://goo.gl/photos/Zr14PLXYFBQnJJfB6
Pour informations: www.apatridesanonymes.info
--------------------------------------------------------------------------------------------------------------------------------------------------------------------------------------------
Multiple banners displaying solidarity with migrants and against borders!
Montreal, April 29th 2016 – Only a few days preceding the anticapitalist mayday demo that is organized under the theme "Against Imperialism, Racism, Borders and Colonialism," the Apatrides Anonymes and their friends and supporters orchestrated multiple bannerdrops in different neighborhoods in Montreal: Pointe St-Charles, Petite Patrie, Plateau Mont-Royal and Rosemont.
With this action, we want to denounce Canadian immigration policies. Aside from the special program we've seen during the past months welcoming a few thousand Syrian refugees, Canada continues to be restrictive, repressive and racist toward migrants, particularly closing the borders to asylum seekers, who are amongst the most vulnerable immigrants, over the last fifteen years.
We want to show our opposition to global capitalism. Through wars, land appropriation and environmental pillaging, global capitalism allows rich states and corporations to exploit resources and populations in the global South, as well as here, exploiting the dispossessed and displaced workers who seek refuge in the north. Often those who are not accepted as refugees become even more precarious and exploited undocumented migrants.
The fear of terrorism is used to further divide resistance, reviving xenophobia towards one part of the population, diverting the legitimate anger against the political and economic situation towards "the immigrant".
This needs to stop immediately! From around the world we must unite against the capitalist and racist order. Against these attacks, we must respond with solidarity!
Status for All!
Photos of the banners: https://goo.gl/photos/Zr14PLXYFBQnJJfB6
For more information: www.apatridesanonymes.info