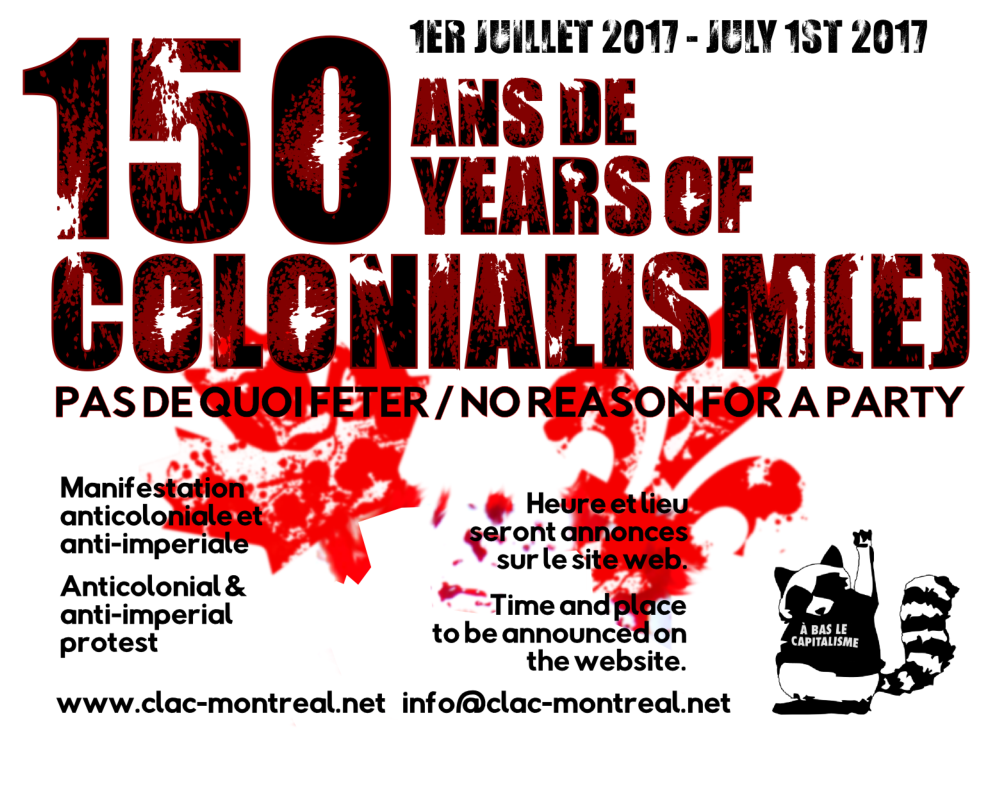 150 years of colonialism is nothing to celebrate!
Anti-colonial and anti-imperialist demonstration in Montreal on July 1st, 2017
Time and place soon to be announced!
Mark your calendars!
As you might know, this year is the 150th anniversary of Canada. The government will spend half a billion dollars in 2017 to organize ceremonies, parades and parties to celebrate the colonialism, imperialism and racism that is so characteristic to nation-states. Those amounts will be invested in questionable projects that will benefit the tourism industry and the friends of those in power, rather than the residents of the area.
We should never forget that the territory we call Canada has been stolen by European settlers from the Indigenous peoples who have lived here for thousand of years. The land was taken in order to appropriate natural resources to make the English and French crown richer. Why should we celebrate that?
Canadian colonialism isn't something of the past, as the oppression and racism against Indigenous people still exists, whether we think about the disproportionate rate of incarceration compared to white people, to the police abuse they face, or the military interventions (Restigouche, 1981, Oka, 1990, Gustafsen Lake, 1995, Elsipogtog, 2013). These interventions were meant to « discipline » Indigenous communities while they claimed rights that the Canadian government agreed to in treaties. Even then, the treaties were signed after settlers invaded Indigenous territories and destabilized the ecosystem their communities depended on. Once again, is there anything to celebrate?
Even if the vast majority of the Canadian population comes from immigration, beginning with the16th century period of colonization, the Canadian government maintains racist policies towards new migrants. They are marginalized, deprived of essential services they need to live in dignity, and are often treated like criminals or terrorists. Should we be proud of the welcome we offer to the people that often have to migrate here because life in their country of origin has became unbearable, often because of the imperialistic policies of our government or of other rich countries that can't get enough power and money?
This is why we'll disrupt Canada day on July 1st as much as possible. There is no pride in living in a country built on stolen land; a country accumulating riches all these years through the brutal exploitation of the resources here and everywhere else. There is no pride in living in a country that marginalizes Indigenous people and migrants.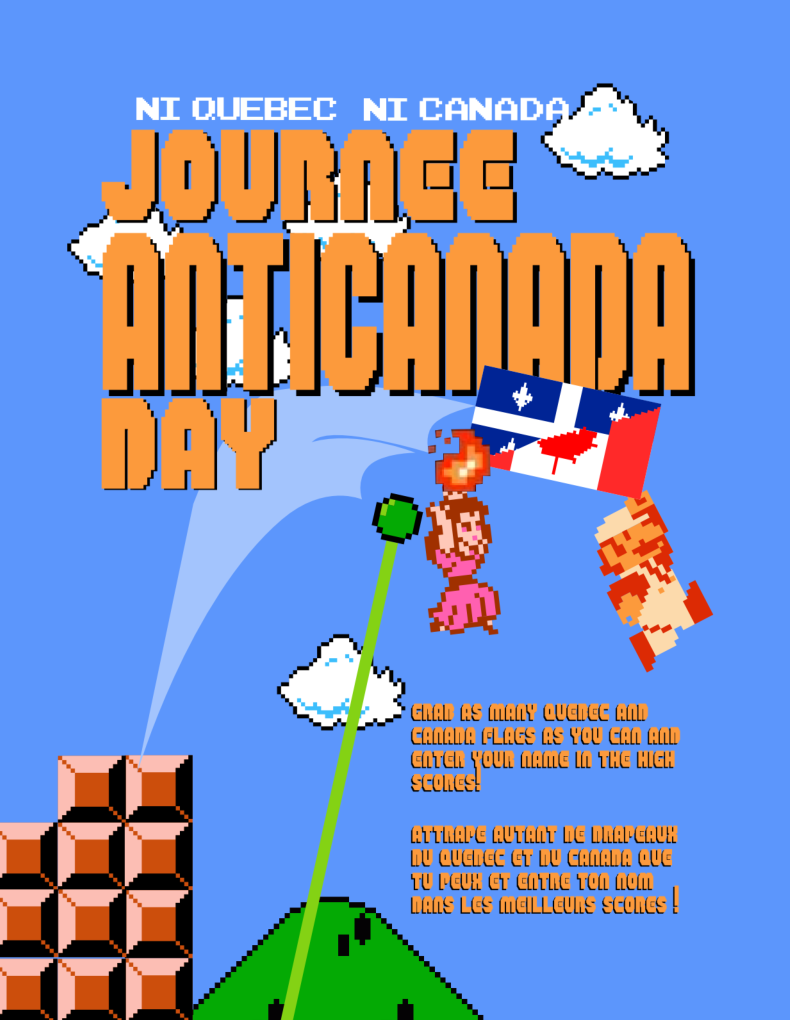 Call to action:
In addition to our demonstration, we encourage you to also organize other actions.
There are symbols of Canadian colonialism all around us: Canadian army buildings, cannons, military museums, government offices, Hudson Bay Company stores, prisons, courthouses, parliament buildings, city halls, offices of CSIS and the RCMP. Let's be creative!
Fun activity to do with your friends on July 1st: gather all of the Canadian and Quebec flags that you can find. There are lots of things that you could do afterwards around a nice bonfire. Additional challenge: replace the flags that you've found with more appropriate ones, such as black flags. Hours of fun!
The CLAC – Anti-Capitalist Convergence info@clac-montreal.net – clac-montreal.net
Supported by:
Ni Québec, ni Canada : projet anticolonial
Immigrant Workers Center
IWW Montréal
RASH Montréal
Montreal Sisterhood
Collectif opposé à la brutalité policière (COBP)
Jeune garde
Projet Accompagnement Solidarité Colombie (PASC)
Organized as a response to the call for a national day of action on July 1st 2017 made by IDLE NO MORE and DEFENDERS OF THE LAND: http://www.idlenomore.ca/unsettling_150_a_call_to_action
Date et heure:
Saturday, 1 July 2017

(all day)