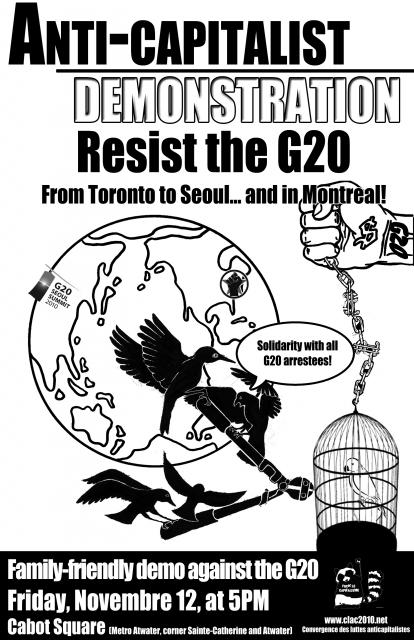 Anti-capitalist demonstration against the G-20
Friday, November 12th, 2010
Meeting point at 5:00 PM, Cabot Square, Montréal
(Atwater & St-Catherine west)
On the heels of Toronto, the world's biggest capitalists will meet again in Seoul on November 11th and 12th for another G20 summit. Rallies will be held all over the world to denounce capitalism, misery and poverty.
While we face an economic, social and environmental crisis, Prime Minister Stephen Harper promotes the « stabilization of financial markets », imposing austerity measures that go against the interests of workers, the unemployed and the poorest of the planet. In response, we take to the streets to demonstrate our rage against the capitalist system and show our refusal to submit to those who enrich themselves on our backs through theft, exploitation and repression!
This march will also underline our solidarity with the dozens of people still facing charges from the demonstrations held in Toronto against the G20 summit last June. Months later, the Canadian State continues to criminalize and suppress the voices of dissent. We invite all people, families and communities who believe in a better future, to join us in denouncing capitalism, the G20 and political repression!
In addition to this child-friendly event, we invite groups to join the resistance to the G20 by organizing autonomous actions during the G20 Summit in Seoul taking place from November 11th to the 12th.
Spread the word!
An invitation from the
Convergence des luttes anti-capitalistes 2010 (CLAC2010)
WWW.CLAC2010.NET – blocampmontreal@gmail.com