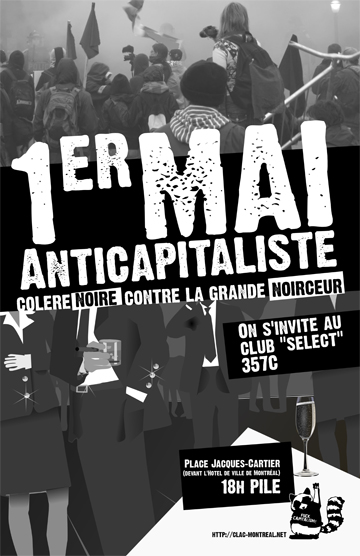 ANTI-CAPITALIST DEMONSTRATION OF MAY 1, 2013
*Contre la grande noirceur, la colère noire*
This is a call to participate IN LARGE NUMBERS in the annual anti-capitalist demonstration organized on the occasion of International Workers' Day.
This is also a call for autonomus action... May 1 lasts 24 hours!

*************************************
Wednesday, May 1, 2013
meet at 6pm *SHARP*
place Jacques-Cartier – in front of Montréal City Hall
[métro Place-d'Armes or Champ-de-Mars]
WE ARE INVITING OURSELVES TO THE EXCLUSIVE CLUB 357C !
*************************************

CONTRE LA GRANDE NOIRCEUR, LA COLÈRE NOIRE !
Let's bring our rage directly to those responsible for the misery in this world!
The grande noirceur (the Great Darkness), this dark shadow we live under, is the illusion of a strong and insurmountable social order, choking us, blinding us, tying us to the passive role of consumer-elector. It bears down upon us with its entire weight in order to keep us occupied with our fears, in order to petrify us, in order to keep us slowly simmering at the bottom of the capitalist pressure-cooker.
The lid is screwed on tight, but we've reached the boiling point and the situation is becoming explosive. Willing or unwilling slaves of patriarchal, statist, and capitalist systems, we seek to undo their grip on our lives and the lives of others. Rather than passively making these systems more dynamic, we're seeking to lace them with dynamite—using the world-shattering power of our rage!
We must work together to take down these systems. The darkness of banal and structural sexism, of homophobia and racism, of fucking half-witted nationalism. The darkness of gold that is pumped up until the stocks crash. Union bosses and accommodating bosses' unions. Yes, our rage is legitimate! We have good reason to rise up!
Yesterday's elites have bequeathed their powers to new representatives to overcome. Domination has slipped out of its priests' cassocks and donned judges' robes; just like the PQ has assumed the place of the PLQ. But we reject their ilk, we hope for better!
On May 1, let's remind them of this with a show of solidarity for the struggles that the exploited wage - and have always waged - all over the world.
Let's bring our rage directly to the secret dispensaries of power : the private clubs where political and economic elites plot and conspire against the people; conspiring against and sneering at the world with complete impunity, fraternizing and scratching each others' backs. It is in these quiet lounges and luxurious dining rooms that the capitalists draw up the plans of our oppression and our exploitation.
Therefore, let's make them understand what we think of their conniving!
*************************************
Wednesday, May 1, 2013
meet at 6pm *SHARP*
place Jacques-Cartier – in front of Montréal City Hall
[métro Place-d'Armes or Champ-de-Mars]
WE ARE INVITING OURSELVES TO THE EXCLUSIVE CLUB 357C !
*************************************