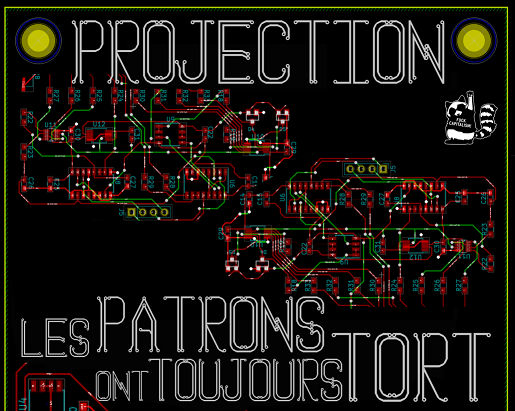 Bosses Are Always Wrong!
Release of a documentary short from CLAC
Wednesday, 16 January, 6PM
Station Ho.st
1494, Ontario East
The screening will be followed by a panel discussion about work with the following speakers:
Camille Robert, she is doing her Ph.D and is a lecturer in history at l'UQAM. Her recent work focuses on the invisible work of women. She was also active in the student, feminist and union movements. She is a contributor with HistoireEngagée.ca and a member of À Bâbord!'s editorial board.
Joëlle Dussault, member of the Industrial Workers of the World (IWW), in the solidarity committee and is a delegate for the Montreal branch. She was active in the student movement, in neighborhood assemblies et against police repression. Together with the Mementum collective, in February she will be publishing a book about the history of student activism at Université de Montréal.
Mostafa Henaway, a long-time organizer at the Immigrant Workers Centre focusing on Temporary Placement Agency Workers, and is active in Palestine solidarity in Montreal!. He is also a writer and former news collective coordinator at CKUT 90.3FM.
Eight hours of sleep, eight hours of work and eight hours of leisure. For over forty years, we will most likely spend more than forty hours a week carrying out a series of trivial tasks that require no specific training in order to increase our "efficiency" at work.
Did workers' struggles, in spite of their achievements, have actually slowed down capitalist growth. Can we both improve our working conditions, reduce the speed of employer wealth accumulation at our expense and strive towards a more egalitarian society?
In the last decades, many libertarian ways of thinking and many social movements have developed — in theory and in practice — a radical criticism of labor, in which the fundamental problem is the centrality of "productive" and wage labor in human activity, at the expense of the other spheres of life.
Bosses Are Always Wrong! (30 mins, French with English subtitles.) examines the gradual transformation of trade unions into corporatist organizations, with their approval of the market logic and job creation at all cost, with all the contradictions that this implies. The documentary also looks into a variety of issues that are too often ignored by labour movements (the environment, patriarchy, migrant worker conditions, etc.) and brings to light the contributions by anti-authoritarian and feminist struggles and analyses that lead toward a genuine emancipation for all. Finally, what is the route along which to move forward and how to avoid the obstacles we will encounter along the way?
Because building the world to come starts with challenging the foundations of the world as we know it today. Hope to see you there!
Date et heure:
Wednesday, 16 January 2019 - 18:00